Sandblasting Dust Control Plan-King Vehicle Company Sand Blasting Room Dust Collection System Design
Sandblasting Dust Control Plan-King Vehicle Company Sand Blasting Room Dust Collection System Design
There are two blasting equipments in the King vehicle blasting workshop. Once these blasting equipments start to work, a lot of dust particles will be generated, which contain iron oxide, manganese oxide, fluoride and other toxic metal oxides. These are extremely harmful to the human body and the factory environment. This project is mainly to solve the following smoke and dust problems.

First, collect the relevant data of the site through the actual site investigation and technical exchange, and then input the original parameters and application conditions into ACMAN's unique professional design software. The software calculates the system air volume and system pressure loss according to the input data and conditions. Parameters, automatically select the most suitable filter equipment, fan and the diameter of the pipe from the fan to the final suction port. Finally, the designer will further analyze and check the automatically generated system bill of materials and data, and readjust some of the data to Reduce costs and modify some application conditions. This process is repeated, and finally a dust removal system optimized and balanced from beginning to end is obtained.

According to customer requirements, the dust generated during sandblasting is treated to reduce its content in the plant to a minimum value, protect the health of workers, and provide a clean working environment.

There are 2 blasting rooms in this project. Designed with main dust removal system + cyclone separator, filter and fan are put separately
It is placed outside the enclosure wall of the plant, and pipes are installed along the columns and walls of the plant.
Dust removal host: The design total air volume is 12,500m3/h;
1):16-ton sandblasting room: length, width and height = 3.3 x 4.0 x 5.2 = 68.6 m3; air changes is 60 times per hour x 2 = 120 times; Design of suction air volume of each blasting room: 120 x 68.6 about 8232 m3/h;
2):Total air intake of the spray booth: 8232 x 1.2 (coefficient) = 10,000 m3/h;
3)Pill separation room: dust removal air volume Ø200 pipe suction dust, 2,500 m3/h;


Use ACMAN TR-150B-J Air Filter Dust Collection Unit.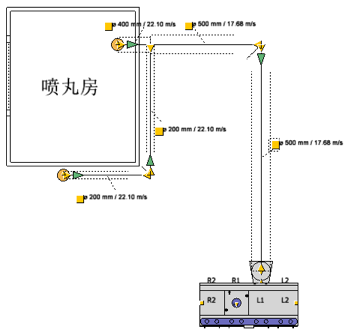 Each room is cleaned by two vacuum points, the air volume of a single vacuum point is: 6800m3/h; (as shown in the figure)