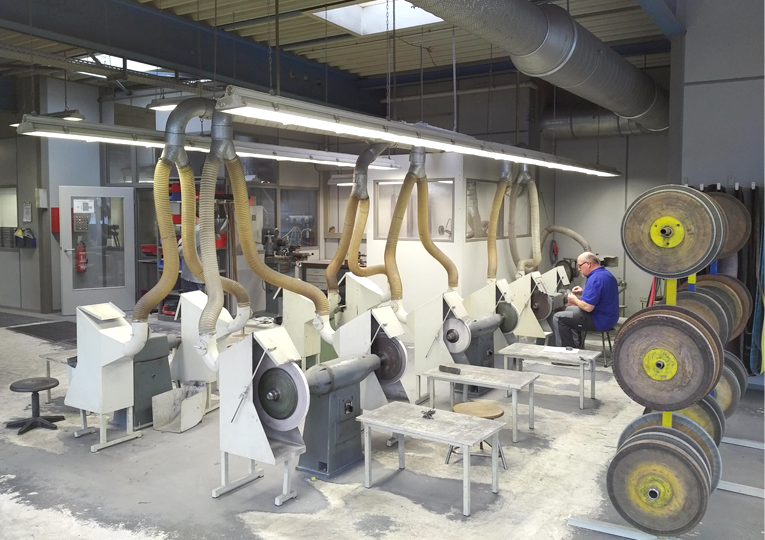 Task:Effective collection, extraction and separation of ultra fine dust created during surface finishing process
The fine particles generated in polishing and grinding is hardly to avoid even with the most advanced technologies.
In addition to polishing dust, paste, materials such as scrubbing fleece (cotton, other), and by-products of abrasion are siphoned off. Due to these dust are flammable and explosive, fire and explosion protection design must be contained.
1:dry separation.with safty measures. (Pulse Jet Cartridge Dust Collector/Deduster/Extractor ) 2:wet scrubber(recommends)
Solution:
Dry Separation:Customized dust extraction technologies with explosion protection and feasible clean air recirculation
Dust removing can be designed dry or wet separation based on your actual requirements.
For dry separation processes units in the Pulse Jet cartridge de-duster series are recommended.
Cartridge filters and additional secondary filters are utilized if purified air is recycled back to the workparts. The lifespan of a fliter can be extended if using cyclone system for pre-separating of coarse dust particles.
A dosing unit adds limestone powder to decrease the fire and explosion danger during dry separation. Further explosion protection measures can be cut out, however the mixing ratio should remain at 9:1.

Nevertheless, investment for wet separators in the wet scrubber series are most valuable.
The majority of customers utilize wet scrubber to solve metal polishing dusts, which results in an ideal emission, as the fine dust with particular gravity the water to be a filteration plays an economical role who can collect the dust sufficiently.
Example: Vetnam customer CNC Grinding System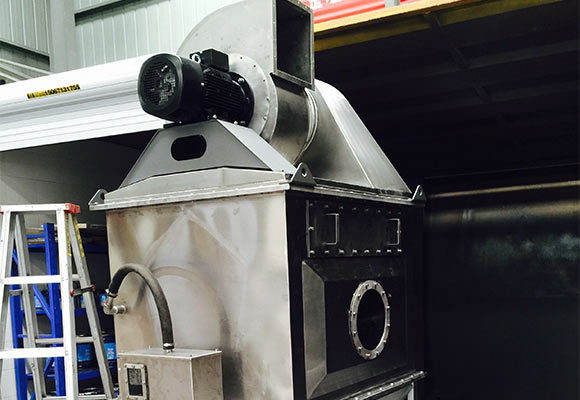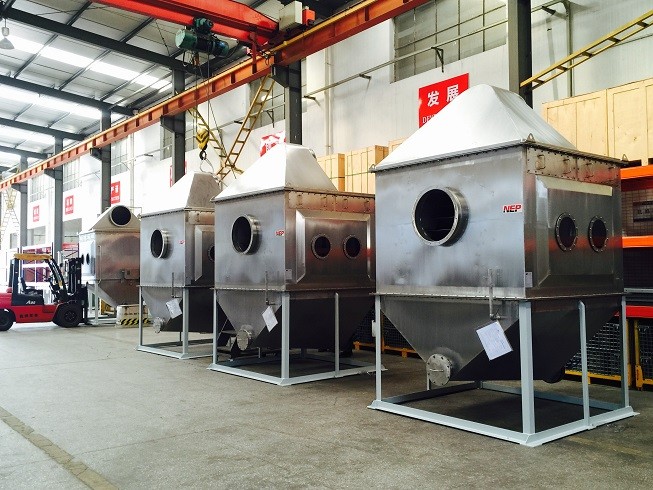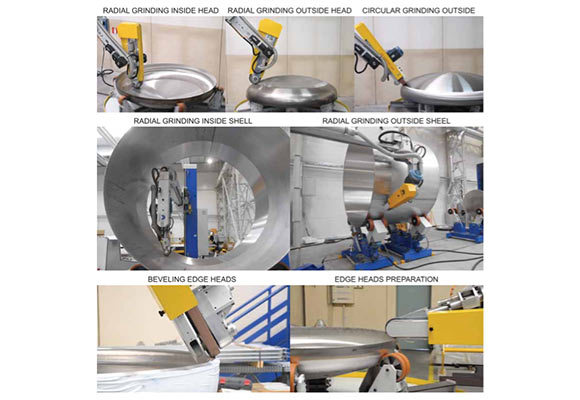 This wet scrubber is self-excited, no need a pump,and easy insatllation and cleaning,long life span.
Wet Scrubber Collector Detail: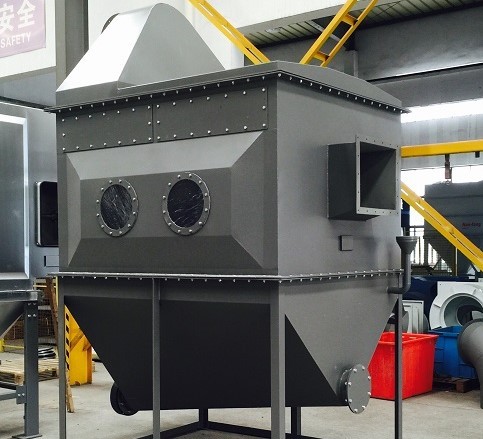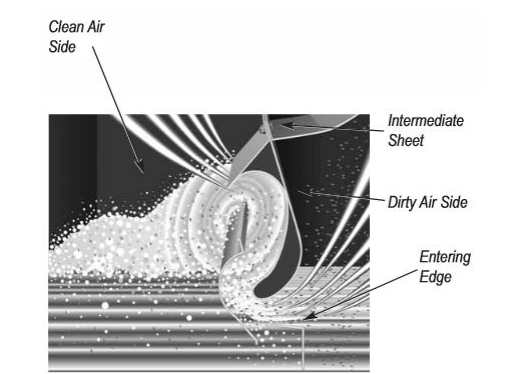 • Features:
1:High dust removing efficiency through hydraulic force
2:Automatic water feeding device, easy in maintenance
3:Good dust removing effect for sticky and hydrophilic dust particles
4:Low running resistance, low power consumption
• Operation principle:
During operation, dust air passes through arc-shaped slot with high flow speed after it enters the purifying tank. Air stream in the slot turns sharply and blends forcefully with water, forming a water curtain at the slot exit that facilitates full contact between dust and water and enables dust to dissolve into water. Purified air is discharged out from water-retaining plate after moisture removed. By recycling water in the tank, Water consumption is therefore minimal, except for loss from evaporation. Water lost is replenished by automatic water refilling device to maintain water level. Sludge on the dust remover shall be cleaned regularly.
• Applicable:
It is highly effective in treating sticky, high temperature, toxic and harmful gases. It's widely used in pharmaceutical, metallurgy, chemical and power industries.
Wet scrubber for flammable dust(metal grinding, polishing, buffing,brazing)
water scrubbers for Thermal exhaust gas/hot steam vapor/hot gas
dust scrubber for hygroscopic dust(sugar rotary dryer,thermal-spray application
Watery dust remover for poisonous gas absorption, acid and alkali neutralization
air scrubber for pharmaceutical sensitization powder: penicillin,Pill Encapsulation
gas scrubber for odor absorption(VOCS treatments)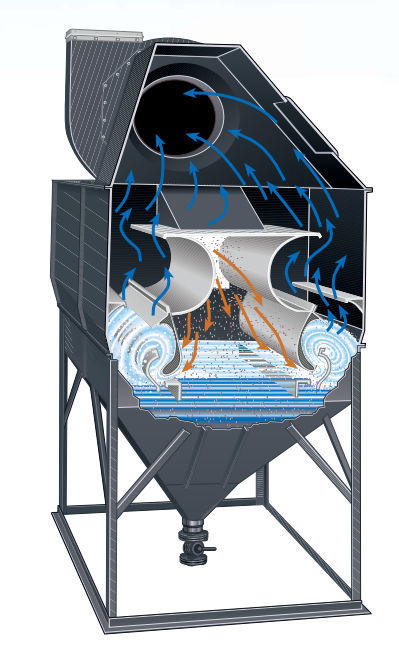 • Product Overview:
ZH-# wet scrubbers are devices that remove particulate pollutants from a workplace with
Spark or from other moisture dust emit conditions, or from sensitizer-manufacture equipment.
In the wet scrubber, the raw gas is brought into the wet collector, by forcing it through the liquid, so as to remove the pollutants. Generally the scrubber liquid is water, and some additive also can be addicted in order to neutralize, oxidation, reduction.
In general, dust particles removal efficiencies requires that one of them be easily
collected in solvent (i.e. that the gases are very soluble in the liquid or that the particles are large and readily captured)
ZH-# wet dust collectors are flexible design for various range of process conditions with minimal operate requirements. The centrifugal blower has high static pressure and multistep air capacity choices. Self-water make-up makes operation easily.
1:Upper fan setting
2:water tank: self-water replenishing
3:Apply for Hydraulic and sticky dust
4:High dust removing efficiency
5:Low running resistance
6:low power consumption
7:Body material: Sus 304/Q235
8: ability to handle high temperature and moisture dust.
9:can remove both gases and particulate matter.
10:Wet scrubbers can neutralize corrosive gases.
| | | | | | | |
| --- | --- | --- | --- | --- | --- | --- |
| Model | Air Flow(m3/h) | Resistance(Pa) | High | Wide | Deep | Weight(kg) |
| ZH-2 | 1600-2900 | ~80 | 950 | 1110 | 2357 | 1100 |
| ZH-4 | 2900-4000 | ~80 | 1100 | 1300 | 2653 | 1320 |
| ZH-6 | 4000-6400 | ~80 | 1330 | 1630 | 3242 | 1480 |
| ZH-8 | 6400-8500 | ~80 | 1530 | 1830 | 3242 | 1990 |
| ZH-10 | 8500-10580 | ~80 | 1730 | 2030 | 3432 | 2460 |
| ZH-15 | 12000-17000 | 80~120 | 2075 | 2903 | 3930 | 3680 |
| ZH-20 | 17000-24000 | 80~120 | 2225 | 2903 | 4238 | 4200 |
| ZH-30 | 30000 | 80~120 | 2346 | 3356 | 4700 | 6020 |
| ZH-50 | 50000 | 80~120 | 2634 | 4378 | 5785 | 7000 |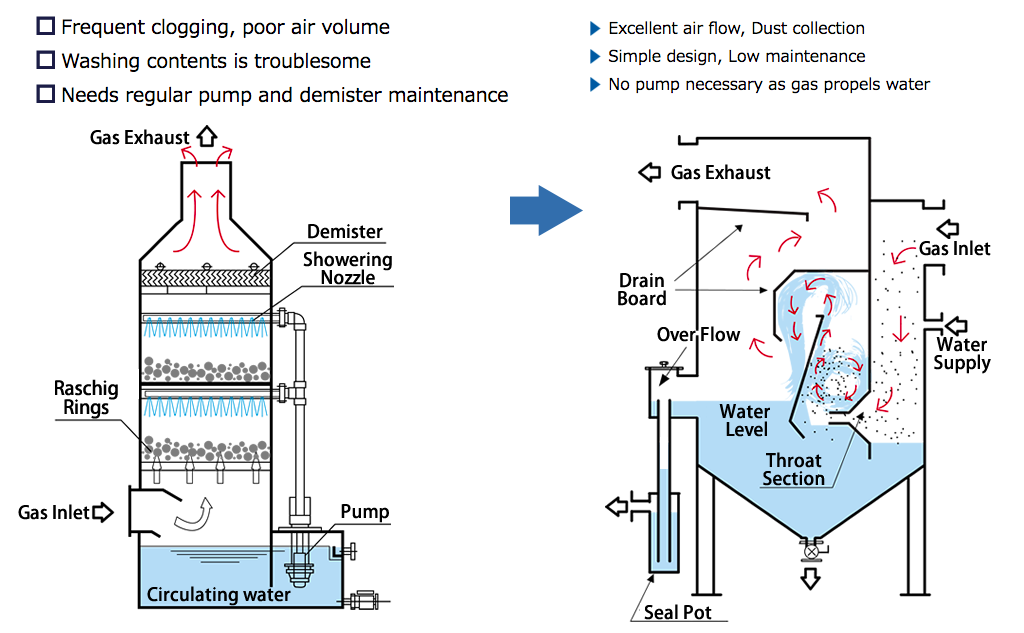 Q: What should provide when choosing suitable dust collectors?
A: Process summary sheet should be provided, for we need to know the dust collection summary for example: dust category (what? Flammable? Corrosive? Explosive? Temperature? Density?)
Q: How to confirm the airflow/air capacity and the pressure?
A: Mostly, it depends on the dust suction hoods, then can calculate the airflow; our dust extractor provide ~1000Pa pressure to your use, so the duct system pressure should known first.
Q: The water consumption?
A: The water tank contain 1-ton water for recycling (depend on the size, ZH-4 as an example), Water consumption is minimal, except for loss from evaporation.
Q: The dust collection unit's power supply?
A: Every country have different industrial power supplies, we could OEM the blower for your needs.
Q: When we should change the recycling water?
A: It depend on the usage and process, normally, 3-6 months.
Love discounts? Subscribe to newsletter!
Please send your message to us