Task:Efficient dust extraction to protect personnel and machine-
CNC Laser Cutting Machine Fume Extractor
Laser technology is now a standard configuration in the machining industry when processing metals and organic materials (such as plastic, wood) . The increase for accuracy and productivity is also leading to increasement of pollutant, sometimes in the submicroscopic range, which influences the health of the operator and the function of the laser system. Therefore, a dedusting system is needed to ensure efficient dusting removing and separation
While conventional dry dust separator can be used for metallic and non-metallic dust, special separation processes are necessary for organic material.
While traditional dry dust collector can be used for metal or non-metal pollutants, organic materials are required special collection processing. In plasma and laser cutting process, the fume generation varies with the parameters such as, cut rates, total cutting time and material thickness.
Except the cutting consumables, surface paintcoating, base metals or any other contaminants appearing in the atmosphere is also a part of the fume composition. However, if there are no correct filtration or other dust removing measures the fume and smoke generation can be enormous
In CNC Laser Cutting Machine most particulate can be less than 10.0 microns while in laser cutting the particulates in high concentration can be less than 1.0 micron in size. In both cases, the fume or particulate is considered to be fine and a bit agglomerative when going to cool.
Solution:stationary cartridge filter units
Dry dust collector carridge filter series extraordinary support for ultra fine particle. whose required air flow varies based on the process and materials applied in the laser engraving. The design of the cartridge collector is flexible as for the required airflow and individual process because of the variations supplied in the filter series -also possible for large air flows. For thermal processes like laser engraving, fireproofing measures and explosion protection in the light of ATEX rules are advised. Spark collector is also suggested before the spark mixed with dust into the dust extractors, if users is not willing to replace the filter, sintered plated dust collector is a good choice.
Example:Laser Metal cutting/CNC plasma Cutting Machine Fume Extractor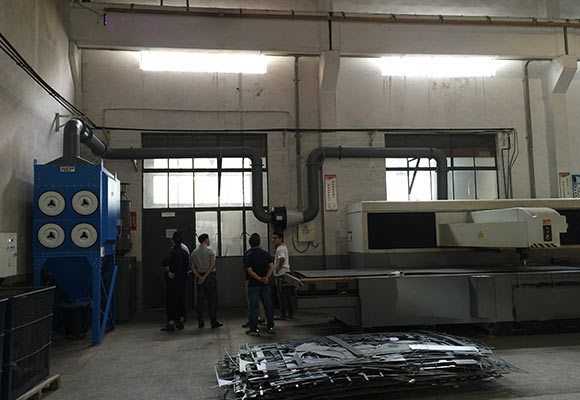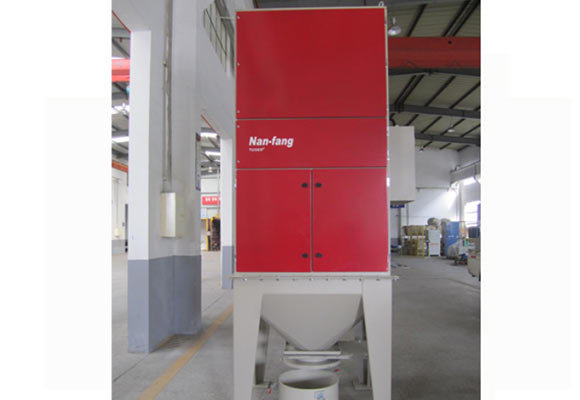 Dust collectors supply up to 25% more filtration capability than other similar sized cartridge extractors.
stationary cartridge filter units Detail: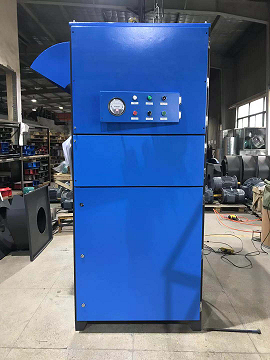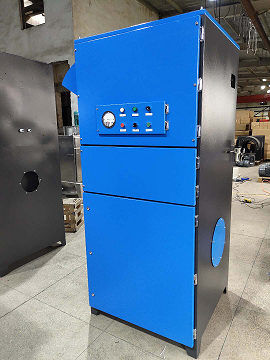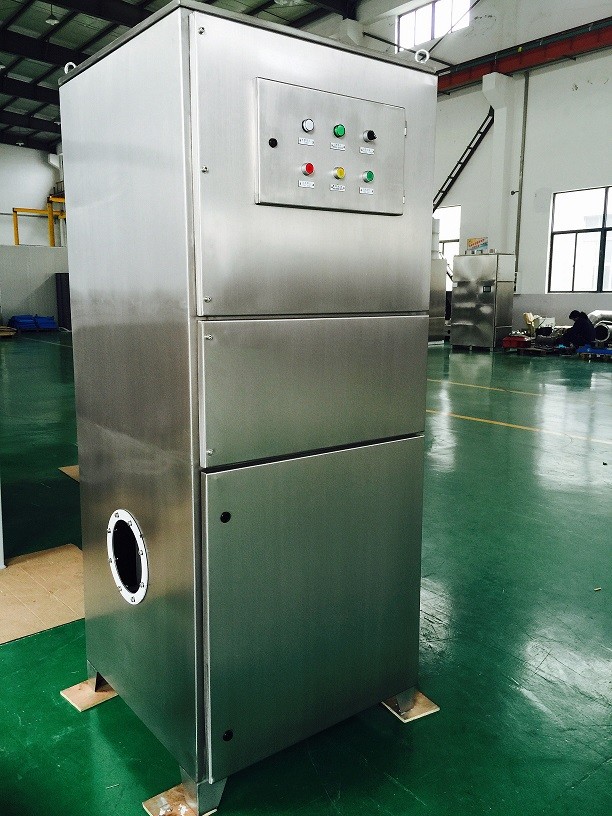 • Features:
1:Submicron cylinder filtering, easy for replacement
2:Automatic online pulse dust removing
3:Easy in operation and maintenance
4:Multiple tube connection locations for air inlets and outlets
5:Designed on load-and-go basis
6:Larger filtering area
7:Filter cylinder being more pressure-resistant and having longer service life
• Operation principle:
Normal operation: switch on the power, turn on the fan, dust air enters the air box from dust source through suspended hood, air hose and air inlet. Flow rate drops suddenly due to air stream soaring; big grain dust separates from dust air and then sink into dust storage tank, Other small grain dust remains at the outer well of filter under the influence of filtering, colliding, hooking and static electricity. Purified air is discharged from the fan to air outlet via the anechoic chamber above. Dust cleaning operation: online dust removing is adopted, no machine shutdown is needed; pulse valve is controlled by controller, back-blowing is conducted on the filter drum periodically, time is set according to actual dust density.
• Applicable fields:
Application environment: temperature: -10°C -- +55.4 , relative air humidity no higher than 85%, with compressed air sourceAp. plication industry: chemistry industry, pharmaceutical industry, food processing, metal processing, compound material, electronics, building materials, electrostatic coating and other fine air particles.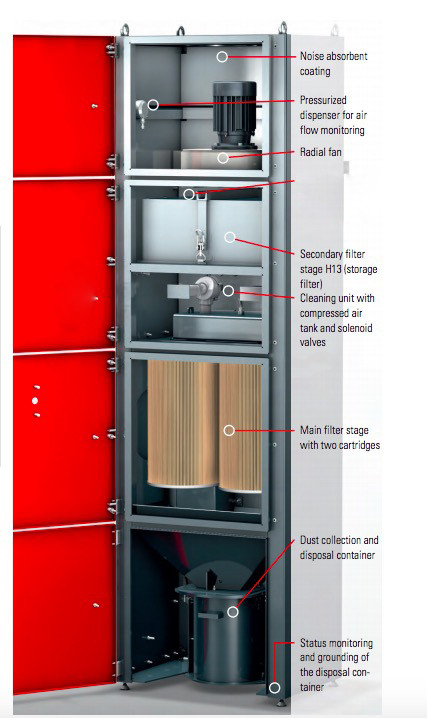 Air Source

Tuoer-8

500-900

12

1780

0.75

0.4~

0.6MP

65

Tuoer-10

900-1100

12

2040-1780

1.1

0.4~

0.6MP

67

Tuoer-15

1400-1600

18

2040-1780

1.5

0.4~

0.6MP

70

Tuoer-25

1688-2476

30

2150-1820

3

0.4~

0.6MP

73

Tuoer-30

2664-3405

30

2700-2200

4

0.4~

0.6MP

73

Tuoer-40

3786-4527

36

2700-2200

5.5

0.4~

0.6MP

75

Tuoer-60

4973-6457

48

2700-2200

7.5

0.4~

0.6MP

75

Tuoer-80

7081-8489

60

2700-2200

11

0.4~

0.6MP

78

Tuoer-100

8490-10455

75

2790-2020

11

0.4~

0.6MP

80

Tuoer-120

10400-13455

90

2790-2020

15

0.4~

0.6MP

85


Q: What should provide when choosing suitable dust collectors?
A: Process summary sheet should be provided, for we need to know the dust collection summary for example: dust category (what? Flammable? Corrosive? Explosive? Temperature? Density?)
Q: How to confirm the airflow/air capacity and the pressure?
A: Mostly, it depends on the dust suction hoods, then can calculate the airflow; our dust extractor provide ~1000Pa pressure to your use, so the duct system pressure should known first.
Q: What type of dashing modes the de-duster provides?
A:
1:Compress air backflow cleaning type;
2:mechanical vibration dust cleaning.
Q: The dust collection unit's power supply?
A: Every country have different industrial power supplies, we could OEM the blower for your needs.
Q: What the compressed air should supply when install the dust remover unit?
A: 0.4-0.6Mp compressed air (water and oil removed).
Love discounts? Subscribe to newsletter!
Please send your message to us